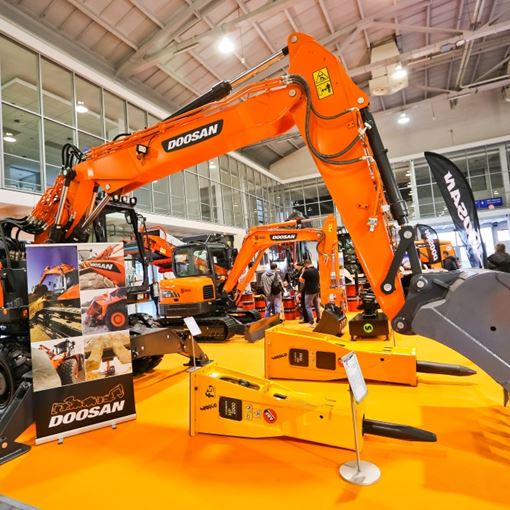 MACHINES FOR REAL PROFESSIONALS!
The INTERMASZ and INFRATEC fairs present the latest offers of manufacturers and distributors of machines, specialized and auxiliary equipment at the construction site, peripheral and spare parts, as well as solutions for infrastructure construction. Several dozen well-known and valued brands on the market present their offer! This is a must for every operator of construction machinery!
Idea Expo
Offer
Trust the experience! We've been constructing fair stands with passion for over 30 years! Our offer includes constructing and designing, as well as unusual solutions that suits your needs!
GARDENcity restaurants
Designer restaurants in the business center of Poznań
Elegance, modernity, service at the highest level. Each of the five interiors was created in a different style and in a subtle way refers to flavors. The three-level restaurant complex consists of rooms: Basilico Bistro, Oregano and Wine, Tabasco, Saffron`la carte, Vanilla, Cinnamon.
At the same time:
International Construction and Architecture Fair
The BUDMA Fair, i.e. the International Construction and Architecture Fair, is one of the most important meeting places for producers and distributors of modern technologies and building materials with trade representatives, architects, contractors and investors in Europe. Construction fairs present the latest product, technology and service offer of nearly 1000 companies from Poland and abroad. 4 days of the construction fair in Poznań abounds in market premieres, product news and substantive events addressing the most current issues of the construction industry, as well as presentations, competitions and championships. Every two years, BUDMA is also accompanied by: * in even years: INTERMASZ Construction Machines and Specialist Equipment Fair, INFRATEC Infrastructure Building Solutions Fair and Fireplace Industry Fair FIREPLACES * in odd years: Fair of Machines, Tools and Components for the Production of Windows, Doors, Gates and Facades WINDOOR-TECH
International Fireplaces Exhibition
The KOMINKI International Fireplaces Exhibition is organized every two years, along with the biggest event in the Poland's construction industry - Budma. Its next edition will take place from 4 to 7 February 2020. This is the only national exhibition with real fire, which is possible thanks to a special flue gas extraction system. It is here that the Polish premieres of the fireplace industry are showcased, and the best products and solutions awarded. The Fireplaces Exhibition is also a special source of inspiration and the previous edition was visited by more than 4,500 architects and designers. For years, investors, developers, distributors and showroom owners have valued the event. The exhibition will be an opportunity to see not only modern heating devices fired with wood, pellets or biogas, but also fireplaces that meet or even exceed the high Eco-design standards as regards their emission parameters. In addition, the exhibition is complemented by the ceremony for the prestigious Flame of the Year Awards. Find out more at: www.targikominki.pl/en