Gold Construction Machines!
We know the winners of the MTP Gold Medal competition at INTERMASZ! These machines are worth paying special attention to!
Traditionally, in December, before the start of the INTERMASZ fair, we get to know the winners of one of the most prestigious and recognizable fair awards in our country - the MTP Gold Medal of the INTERMASZ 2020 fair. The distinction is awarded to products, services and solutions that are characterized by the highest quality of innovative materials solutions or also based on the highest-class technologies available on the market.
- This year the Jury faced an extremely difficult task. All the products submitted to the competition represented very interesting, modern solutions - says the director of the INTERMASZ fair, Dariusz Muślewski - It was not easy to make a choice, and the final verdict was often determined by small details. - adds.
Finally, the Competition Jury, chaired by prof. dr hab. Eng. Józef Jasiczak, awarded the MTP Gold Medal at INTERMASZ 2020 for:
Mini Crawler Crane SPT - LIFT 24
SPT mini cranes have been designed and manufactured in accordance with EU standards, we have the necessary CE and ISO certificates. Crane control with joysticks or a wireless remote control as standard, they are also equipped with an intelligent display to monitor the operating status of the machine. Two engines - diesel for outdoor operation and electric one for an indoor operation to achieve zero noise and reduce exhaust emissions, white tracks included, and the machine is covered by a two-year manufacturer's warranty.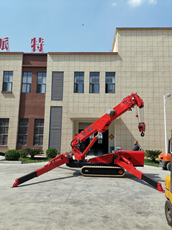 Kubota KX027-4 High-Spec mini excavator - HKL BAUMASCHINEN Polska
The Kubota KX027-4 High Spec is within the 2,600kg limit, it features two additional hydraulic lines, bushing main pins, a quick coupler for the bucket and a spacious cab that provides excellent visibility. The mini excavator has an 1190 mm arm with a very high breakout force. The Japanese manufacturer's patent, double rollers under the tracks, improve the stability of the machine on uneven terrain. The machine was equipped with a 24 HP unit, it is a new diesel engine characterized by low fuel consumption and great flexibility. The Auto-Shift system automatically adjusts the driving speed to the current load of the mini excavator, which allowed to reduce fuel consumption and increase efficiency by as much as 30%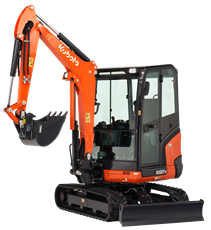 Serdecznie gratulujemy laureatom konkursu i jednocześnie zapraszamy do Poznania aby zobaczyć Zlote Maszyny podczas targów INTERMASZ i porozmawiać o najnowszych rozwiązaniach w nich zastosowanych z naszymi wystawcami!